We launched the Genesis Builder NFT as a permanent onchain record of our appreciation for builders who built their projects on Base Mainnet from its very early stages. We also wanted to be able to provide them with hands-on support in the early stages, helping them get access to the Base team and other developers in their network to foster creativity and inspiration. Working with DeForm has been invaluable in this process to help us collect and verify the information we'd need to make the program a success. - Jesse Pollak, Creator of Base and Head of Protocols at Coinbase
Ever wondered how to grow an onchain community or get crypto users engaged? Let's look at a real-world example of how Base, a Layer 2 (L2) network, and DeForm, a web3 form builder, collaborated to set a new standard for quality and efficiency in blockchain development and web3 marketing.
Base and DeForm's collaboration illustrates how to use commemorative NFTs and blockchain-gated allowlists to bootstrap web3 developer ecosystems and incentivize blockchain app development.
Base Mainnet: A New Frontier in Onchain Development
Base is an L2 scaling solution built on the OP Stack that is currently being incubated by Coinbase, with plans to decentralize in the future. It is a crypto network where developers can create, innovate, and bring their visions to life without the constraints of high gas fees and transaction costs, while still being a part of the dominant Ethereum community.
Base's mission is to make onchain the next online and onboard one billion users into the cryptoeconomy. It aims to serve  as a home for Coinbase's onchain products and also provides an open, public, permissionless ecosystem where anyone can contribute. By investing in this core crypto infrastructure, Base helps accelerate Coinbase's
secret master plan
to create an open financial system for the world. Great developer tooling leads to amazing consumer applications, and Base is here to lead the charge.
The Genesis Builders NFT Launch
On August 9, 2023, the Base team announced that Base Mainnet was launched. They also announced the
Genesis Builder Program
, where developers who launch products on Base Mainnet will receive a Genesis Builder NFT. This special commemorative NFT acts as a permanent onchain record of a developer's early support of the Base mission.
To earn a Genesis Builder NFT, a developer must deploy their decentralized application (dapp) on Base and complete the onchain application at
builder.base.org
. DeForm used onchain records to verify whether a developer has deployed on Base, which determines whether or not they are eligible for the builder NFT.
DeForm plays a crucial role in Base's launch, powering the Genesis Builders onchain application and other signup forms with access gating based on onchain activity. Examples of onchain data queries include "deploying a smart contract to Base mainnet", or "holding more than 0.007 ETH on Base mainnet".
Like a crypto allowlist, DeForm enforces a verification process to ensure that only developers with specific onchain activity are eligible to submit their dapp information to a builder directory in exchange for a special builder's NFT as a reward.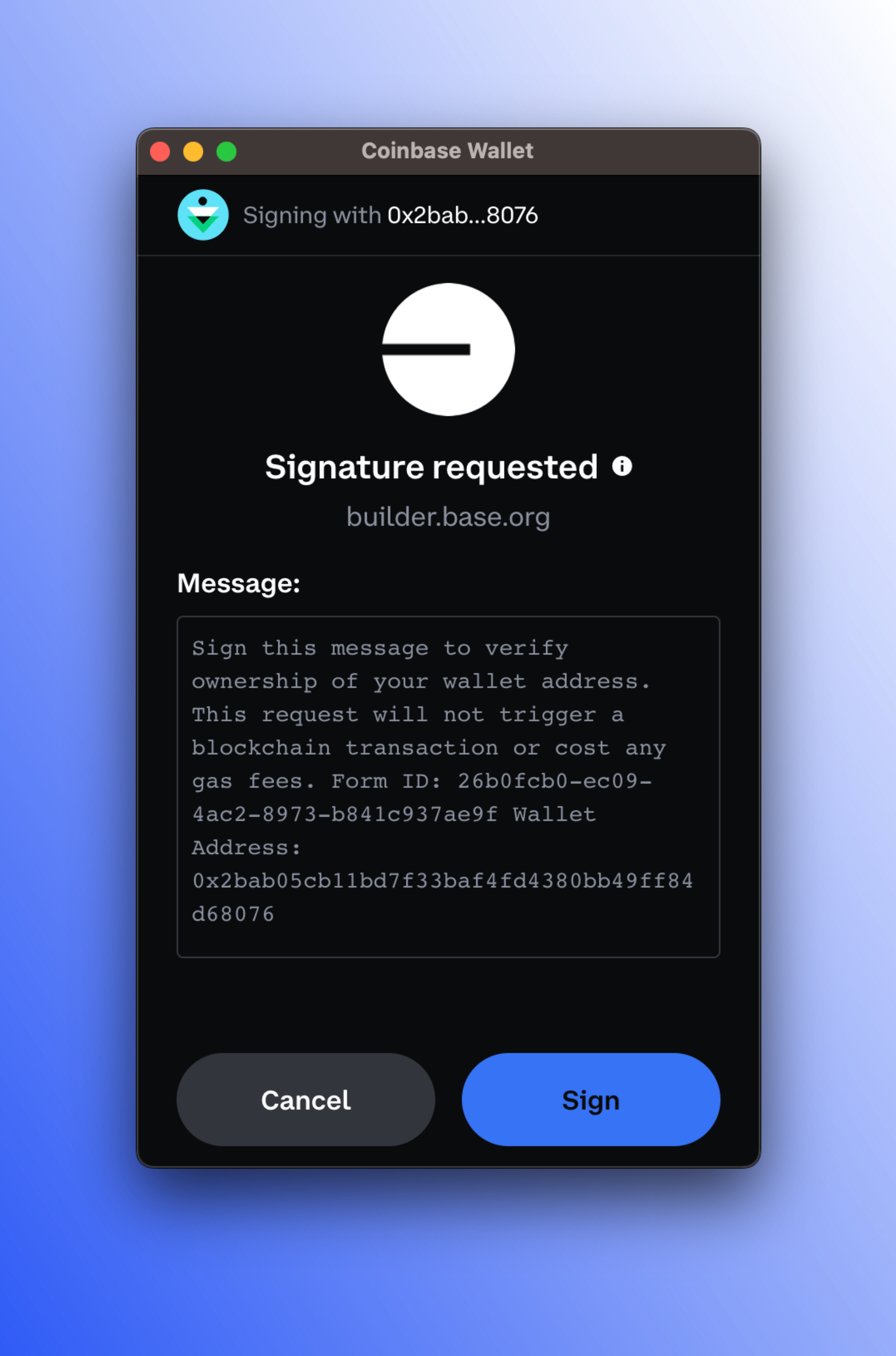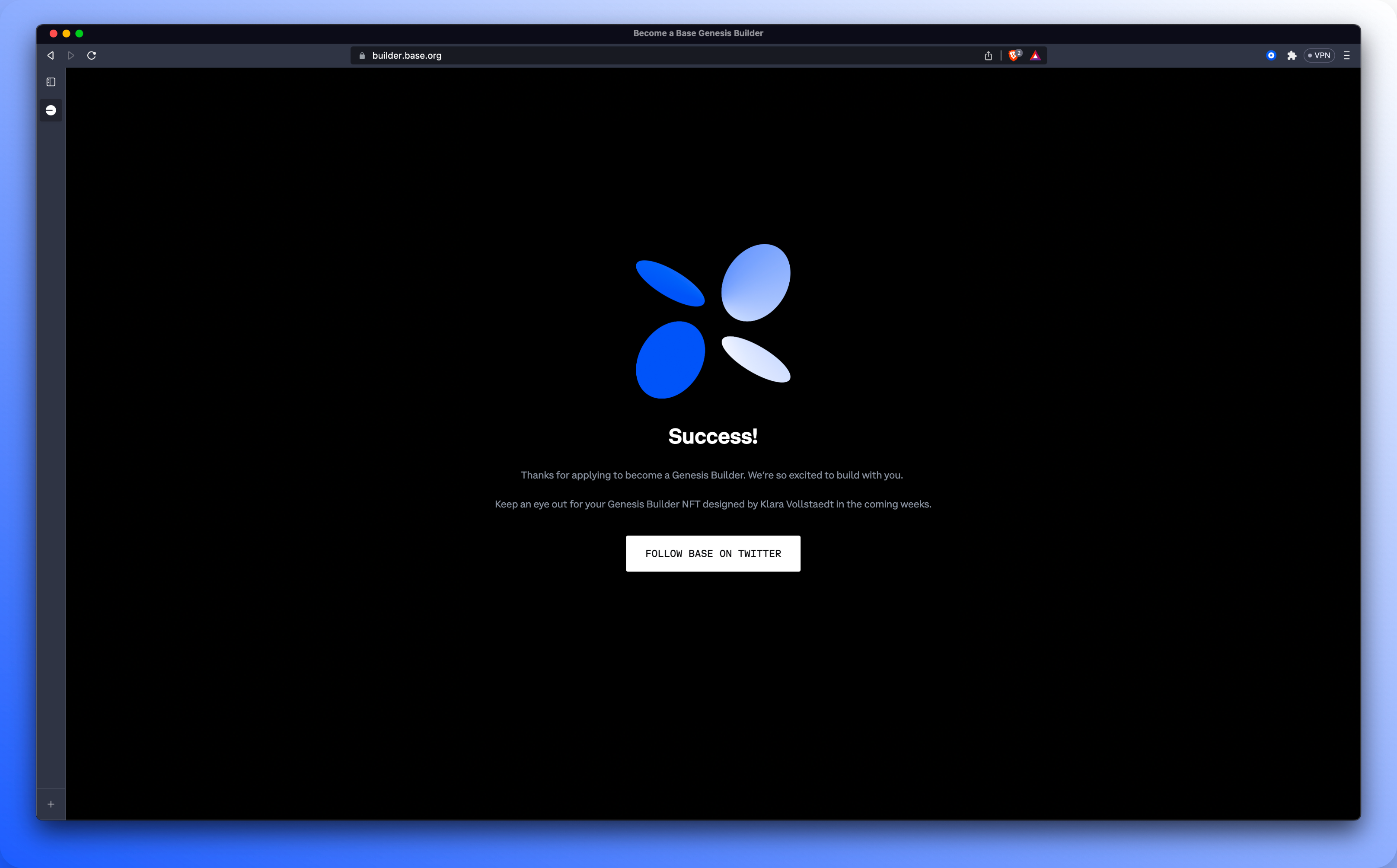 DeForm: Web3 Forms for Crypto Allowlists and Lead Generation
DeForm
is a powerful tool that marketers can use to verify onchain digital assets holdings and social media activity. It's like a web3 CRM It empowers anyone to run NFT giveaways, create web3 surveys, and analyze community data with no coding necessary. DeForm integrates seamlessly with Ethereum wallets and offers unique capabilities not found in traditional form providers like Google Forms, Typeform, or Tally.
DeForm is a powerful marketing operations platform that connects the world of traditional marketing with the realm of internet-native onchain identity and ownership. By reducing bot and spam activity and automatically highlighting the high intent users, DeForm fights sybil attacks and is a leader in web3 lead generation and marketing.
Top crypto companies, NFT communities, and DeFi protocols trust DeForm with their marketing operations. Companies and organizations like Alchemy, Optimism, ENS, DeveloperDAO, CityDAO, Weebox, MeTown, 0x, Matcha, BuZhiDAO, and Premia Finance all use DeForm to grow their communities, collect feedback, and segment their users over time.
Using DeForm Reduces Engineering and Data Processing Time
DeForm's web3 form helped the Base team save time by collecting information efficiently and token-gating the process for the Genesis Builder NFT applications. With automated access gate checks using blockchain data, and simple to use, no-code white labeled forms, DeForm helps identify and reduce bot activity while highlighting the best builders in your onchain community.
Why DeForm is the Perfect Web3 Form for L2 Launches, Blockchain Developer Marketing, and NFT Airdrops
DeForm is a powerful tool for marketing pushes and launches. It helps new developer ecosystems bootstrap the initial community, find new ways to reward the most dedicated and passionate developers, and incentivize them to participate. With DeForm, you can grow your onchain community, get crypto users engaged, and kickstart your project's presence in web3.